The MSBTE board has declared MSBTE Timetable 2023. So, students are advised to read the article regarding updates based on MSBTE.
Maharashtra State Board of Technical Education, Mumbai, has announced that it had conducted its exams in past years for each semester from 24 February to 17th march and 24 June to 14 July. The board will release its timetable for each semester exams on its official website, msbte.org.in
MSBTE Timetable 2023
The MSBTE conducts its exams twice in a year. The first exam is conducted on winter and the second exam is conducted on summer. Recently, MSTBE has released its timetable for winter exams. They are going to be held in working days except for Sundays and holidays. The approximate duration of the examination is to be completed in 18 days.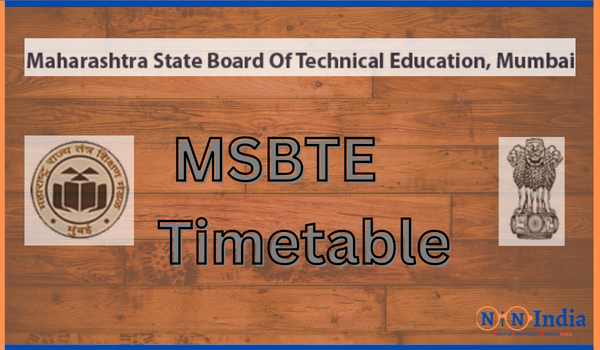 The examinations of different semester students are conducted in the same day, but all have different examination centers. The mode of examination is going to be conducted in offline mode, because now it's not practically possible to conduct it on online mode. Also, the practical exams of a semester are to be held in offline mode only.
About MSBTE
It is an autonomous board of education, meaning it will provide a regular degree with semester-based exams in a year. It is established in the year 1963, i.e., from now 59 years ago. In Maharashtra, all the institutions are affiliated to this technical education board.
MSBTE Timetable Winter Semester Exams 2023
Candidates should have a willing to know that the Board of Technical Education has decided to take the exams of Diploma pursuing students who are in the 2nd, 4th and 6th semesters in winter in the near future of upcoming days. So, Students do not have enough time for preparation.
Students are advised to make plans for preparations for exams as per timetable issued by the Board of Technical Education. For e.g., let say if a student has a nice hold in a particular subject and the Technical Board of Education has given a huge number of leave days in that subject then at the time of preparation, students should focus more on their weak areas and side by side has to give 1/2 hour per day to that particular subject.
The Maharashtra Board of Technical Education for the better preparation of students have uploaded the last two years sample question paper for each subject. Questions are available on its official website. To download question papers, students just need to enter the paper code and select the type of question paper for each semester.
MSBTE Merit List 2022-2023
The Board of Technical Education released the Provisional Merit List on 9th September 2022. The board will prepare the final merit lists after considering all the errors, and the authorities of technical education will release it on 13th September 2022.
MSBTE Passing Criteria 2023
To pass in semester exams, the students have to score a minimum of 40% in each of the papers. However, students have to score a minimum of 50% marks aggregate to pass the semester. Therefore, you must carefully go through MSBTE Timetable to prepare for exams.
MSBTE Timetable Answer Key 2023
The institute has also given the answer key of the previous year's question papers so that students will come to know about the presentation and the way to write answers in the exam. The answer key will work as a reference for the students after their exams. Students need to go to the official website to find its previous answer question paper solutions or the answer key.
MSBTE Winter Semester Exams Forms 2023
Students are requested to fill the exam forms after the release of notice is being issued by the institute.
| | | | |
| --- | --- | --- | --- |
| Particulars | By Students | By Institute | RBTE Confirmation |
| Filling Examinations Forms | 10-28, October 22 | 10-29, October 22 | 09-11, November,22 |
| Filling Examinations Forms with Late Fees | 30 Oct – 02 November 2022 | 30 Oct – 03 November 2022 | 09-11, November,22 |
| | | | |
| --- | --- | --- | --- |
| Filling Examinations Forms with Penalty Fees | 14-16 October,2022 | 04-07, November,22 | 09-11, November,22 |
It is advised to students that they should fill the Exam forms as soon as possible.
MSBTE Exam Dates 2023
| | | |
| --- | --- | --- |
| Type Of Exams | Other than semester-I Students | Only for semester-I Students |
| Theory Exams | 03-24 January 2023 | 03-24 January 2023 |
| Practical Exams | 22-30 December 2022 |  26-30 December 2022 |
MSBTE Result Expectations 2023
As per the survey, the estimated date of declaration of results for other than semester-I students may be on the fourth week of February 2023. The result will be announced for the Semester-I students category by 20th march 2023.
MSBTE Winter Semester Timetable 2023
Kindly follow these steps to download the timetable –
Firstly, visit its official website, i.e., msbte.org.in
Go to the notification corner; diploma exam dates will be displayed on the screen
Now, download the diploma by clicking the respective link
Now, it is advised for students to get a printout of it.
We are hoping that these steps have made it easier for you to reach your destination to get the timetable. You can take a printout of it and stick it above your study desk for a reference.
Thank You for visiting NINIndia. Please read more articles from NINIndia such as admissions, entertainment, etc.