Check the vital details of ABHA Health Card Download – Benefits, Eligibility, and ways to Apply Online from here.
Health is one of the significant concerns considering the lifestyle choices of individuals. Nowadays, people prefer to eat unhealthy food, access their smartphones, and spend most of their time at work, affecting their overall health.
For middle to high-class people, it is somewhere manageable to rescue from a health issue, but for the people below the poverty line, it is simply a nightmare! Thus, for the prevailing health issues in the country, the ruling authorities have made effective Government Schemes to provide health benefits to the people around the corner. One such scheme is "ABHA" for the individuals of the financially weaker sections.
ABHA Health Card Download
Individuals who want an Ayushmaan Bharat Health Account – ABHA admit card will have to visit the official website. The scheme was started in 2018 in September month by the Prime Minister of India, Mr. Narendra Modi. UHID, or a health identification number, is of 14 digits that are generated when an individual registers for ABHA Health Card.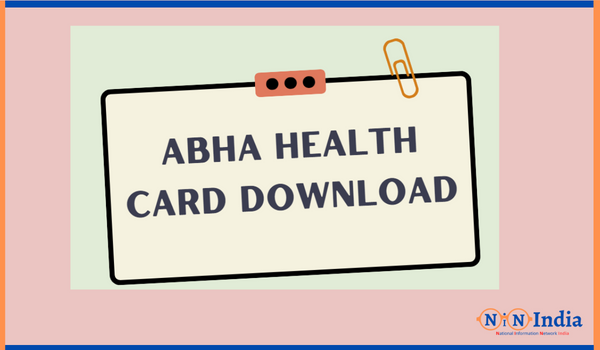 An aadhar card is a required document to create the ABHA Number. If anyone of you does not have an adhar card, make it TODAY from any Government office because this is a mandatory document. There is a smartphone application also that anyone can access to get benefits from the ABHA Health Card. If you are interested in more details, you are at the right place; you will get the relevant details for ABHA Health Card Download from here.
ABHA Health Card Download – Benefits
We have listed down the following benefits for people using an ABHA card :
Hospitals, doctors, and other healthcare professionals can access the health card for the sake of the patients.
Hassle-free access to medical services whether you are a patient, doctor, or a medical staff member
Convenient sign-up to PHR
Unified benefits to the insurance schemes and public health programs (if conducted any)
After creating a health ID, you will have your own unique and trustable identity on which a patient can rely on
Medical records are available online and are secure so that the individuals or the medical people can access it at any point of time as they need it
After seeking these benefits, you will surely want to get an ID for yourself! Follow the steps below to get one!
ABHA Health Card Statistics
In the table below, we have represented the data as recorded till the present year. Individuals who have  less than Rs 5 Lakh per annum income per annum have to apply for the health card
Statistical Details 

Scheme Launch Date
23rd September 2018
Scheme Benefited To
50 crore citizens
Total Hospitals Paneled in 2019
18059
Beneficiaries
4,406,461
Total e-cards issued
10 crore
By understanding this data, it has been observed that several people are getting extreme befits from the scheme. Some of which we have discussed in the upcoming sections. Kindly find these from below.
Apply Online
Ever since the schemes are accessible online, people have find it easier to connect with the Government authorities.
The aspirants of the health card must check the eligibility, documents required, and other related information before applying online for it from this section. We have covered the essential details here.
ABHA Health Card Eligibility
This Government Scheme is known as Pradhan Mantri Jan Arogya yojana (PMJAY) also known as National Health Protection Scheme, which is quite helpful for those who are not financially strong enough.
This health card is for the citizens of India who are under the SC/ST categories
People who are in kuccha houses without land to earn from
Disabled people, tribal groups, or females who are looking out for a shelter
These are some of the eligibility criteria which an applicant must know. However, they can check more details on the official website of ABHA.
ABHA Health Card Documents required
Before applying online for the ABHA Health Card, individuals must keep a list of the required documents. We have listed some of these below :
Aadhaar ID

Mobile phone

Driving License
How Can I Generate the ABHA number?
It is convenient for an individual to create a health card. There are three ways by which you can get your card; using mobile number, aadhar card or driving license. The concerned authorities only require your address and ID proof which criteria is satisfied with these documents.
This is a great way to get cashless treatment for yourself and your family if you are financially underprivileged. We are discussing two of the three methods over here for the ease of the individuals.
The initial step is to check eligibility. We have discussed this procedure in detail here so you can check that from the above sections of this article.
Now, visit the official website
You have to search for generate ABHA number option. You might find this on the home page.
Choose the option with which you have to generate the number, such as by Aadhaar number or driving license.
Now, you have to follow the steps as shared below to complete the process.
If you still have any doubts, then you can visit the official website or write to their official email.
If you are generating ID using an aadhar card, then you have to follow some steps –
Enter your aadhaar number
Then your aadhaar number will be verified
The next step is "Profile Completion," in which you must enter the required details. This will mainly include your personal, educational and professional details.
The last step is "ABHA Number Creation," which is created automatically after you will fill in the necessary details
Read the terms and conditions carefully and click on "I Agree"
Congratulations on generating your ABHA Number via aadhaar number
Create ABHA NUmber Using your Driving License
Kindly refer to the image below. You will notice two options; select "Using Driving License"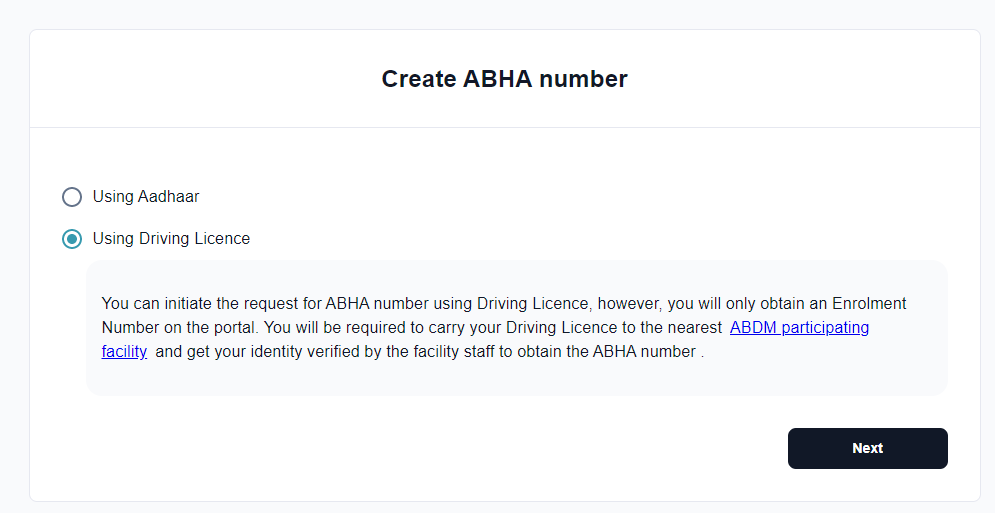 Click on "Next"
Now, refer to the image below
The first step is "Consent Collection" then click on the "Next" button
Your mobile number will be verified in the upcoming step of "Mobile Authentication"
After following these steps, you can generate your ABHA Health Card. You can now access medical services online at any time you want.
FAQ's
What is the ABHA number?
ABHA number is a 14-digit number that introduces a person to the digital healthcare ecosystem created by the Government of India. It helps a financially wealer person to get health facilities from any healthcare centre of India.
What is the official website to generate the ABHA number?
healthid.ndhm.gov.in is the official website where an individual can generate the ABHA number
Thank You for Visiting NINIndia!