Know the essential details of the Old Pension Scheme – What it is & Who are Eligible in 2023 from this article.
On Thursday, PM Narendra Modi advised the states about the economic difficulties in neighbouring countries during a visit to the Rajya Sabha.
Old Pension Scheme
Old Pension Scheme is again opted for by many of the states. States that are opting for pension schemes are Rajasthan, Chhattisgarh, Jharkhand, Punjab and Himachal Pradesh. These states have discontinued the National pension system. However, it has recently drawn attention because the Indian Reserve Bank has urged several states against reintroducing the Old Pension Plan.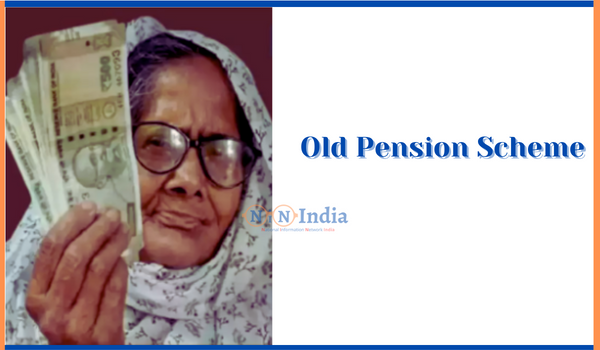 Concerning the Old Pension Program, which some states have recently reinstituted, PM Modi said political parties should be careful with their decisions. And shouldn't play games with the nation's future generations. He advised the states to exercise financial control. In his policies, Modi kept National Progress in mind and recognised the needs of the people.
The yearly resource savings brought on by reverting to the previous pension plan are only transitory by the study of budget in 2022-2023, said Bhagwat Karad state finance minister written as per RBI report. In December 2003, the BJP-led NDA government continued the old pension scheme. On 1 April 2004, a new pension scheme was started.
This is a pressure point because it's a non-funded pension. There is sufficient evidence to conclude that unfunded pension plans may cause severe financial difficulty later. According to D K Joshi, Chief Economist at CRISIL, the New Pension Plan is considerably better if it has funds. Workers receive a specified pension under the previous pension plan. The national pension system, 50 per cent is drawn from the last salary. One of the significant "evades," according to former Deputy Chairman of the former Planning Commission Montek Singh Ahluwalia, is bringing back the OPS.
What is the Old Pension Scheme?
In the Old Pension System, the government would pay a service employee's full pension after they retired. The pension amount is not withdrawn from the employee's pay throughout the employment.
⦁ In 2004 the pension scheme was discontinued by the NDA government.
⦁ Atal Bihari Vajpayee started the National Pension system.
⦁ A retired government employee used to benefit from the Dearness Relief (DR) revision twice a year under the Old Pension Program.
⦁ 50% of the last drawn equal wage is given in The Old Pension Program
⦁ In the old pension scheme, only government servants are allowed to have.
⦁ In General, Provident Fund was issued under the old pension scheme.
⦁ General Provident Fund is only available for government servants; they must contribute some % to GPF.
Old Pension Scheme Objectives
This is the scheme introduced by the government as social security. The age should be 60, and senior citizen is only part of OPS. financial support to older citizens who cannot maintain themselves is the goal of the old age pension program.
Recent Articles 
To create a support system for the elderly government aimed to reduce poverty by providing a net amount monthly.
Benefits of the Old Age Pension Scheme
⦁ Income: To improve the quality of life and to live a good life, a monthly payment is a good source for older adults.
⦁ Good Health: Having a good income, older adults can eat healthily and live healthier lives.
⦁ Social Security: The pension system offers a safe place for older adults, frequently the neediest members of society.
⦁ Financial Independence: with pension help, older adults can become more independent as they don't need to depend on family or friends for their requirements.
⦁ A sense of dignity: As seniors no longer rely on others for financial help, they can keep their dignity and self-respect because of the pension system.
Old Age Pension Scheme Eligibility
It is available to Indian residents only.
⦁ 60 years old adults are only eligible
⦁ No other age limit is allowed.
⦁ The person asking for an old-age pension scheme should be below the poverty line.
Old Pension Scheme Documents Required
The form should be completed
⦁ A birth certificate, passport, or other official identification can be used as proof of age.
⦁ Bill or other ID that is issued in India and their place as proof of residence
⦁ A certified copy of your bank statement or another form of financial documentation.
What is the Process of Applying for the Old Pension Scheme?
Reach your near Graham Panchyat office or nursing home near your place. The online process to apply for the scheme –
⦁ The applicant should go to the Department of Social Welfare Government first.
⦁ Then a Home page will open; click the old age pension scheme for registration.
⦁ To confirm your registration, use your aadhar card.
⦁ Choose the district and other required details in your form.
⦁ Then select 'Validate Aadhaar", and then click the continue button once the aadhar card is validated.
⦁ Find the new account on the current page. Please fill it out with the needed information, such as your name, address, bank account information, etc.
⦁ Completing all your details select the submit button, and you will be registered to the OPS.
Different Between National Pension Scheme and Old Pension Scheme
| | |
| --- | --- |
| National Pension Scheme |  Old pension Scheme |
| Pension oriented scheme | Investment-based pension plan |
| No Return Guarantee | Offers regular pensions to servants during retirement |
| Chance of yielding substantial profits because they are risky | Amount is constant |
The old person should not have any other source of income, including family or friend support and must be poor, which is a rule of the old pension scheme.
What Should be the Income for an Old Pension Scheme?
A person should be 60 years old. A senior individual with a yearly income of Rs 56,460 who dwells in an urban area may apply. A senior person with an annual income of Rs 46,080 resides in a rural place. Depending on the state, the pension granted under this scheme varies in size, but it is often a tiny amount intended to pay for necessities like food, clothing, and other needs.
Thank You for Visiting NINIndia!