NIN Poshan Abhiyaan Sign UP, Login, Website Link & Process can be checked from this page. The POSHAN Abhiyaan aims to reduce the prevalence of stunting in the regions of India that have the highest rates of malnutrition by increasing the number of people who use Anganwadi services and improving the quality of those services.
Its purpose is to guarantee that pregnant mothers, new mothers, and children all get nutritious and well-balanced food. Initially, the MWCD's POSHAN Abhiyaan will focus on 315 districts during the first year, then 235 communities during the second year, and finally, the remaining districts during the third year of its performance.
NIN Poshan Abhiyaan
Poshan Abhiyan is the name of the comprehensive strategy that the Prime Minister has devised for holistic management.   To use Poshan Abhiyan, you must first sign in to your account at Poshanabiyaan.gov.in. After that, you will be given access to the platform.   How to enter data by using the Poshanabiyaan.gov.in website
What exactly is the Poshan Abhiyaan?
The Poshan Abhiyaan is being carried out by both the National Ministries and the state ministries through collaboration and convergence to improve the nutritional status of mothers, children, and adolescents.  The Abhiyaan is not a program, but a collective effort called a Jan Aandolan. There are users on the national, state, and municipal levels. Each user is given a one-of-a-kind username and password to log in with.
In March of this year, the Poshan Abhiyaan was presented as an initiative by the Prime Minister of India. The Indian government devised a plan to enhance the nutritional status of children, pregnant or breastfeeding women, and nursing moms to realize the goal of Holistic Nutrition.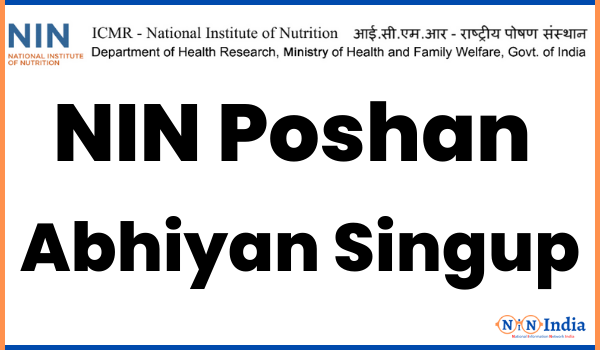 NIN Poshan Abhiyaan Sign In
Within the framework of the Poshan Abhiyan, Sign in to the Data Entry system.
Visit www.poshanabhiyan.gov.in.
Click "Data Entry" in the navbar.
This should load the login form for you.
When logging in, consider your location.
Enter your username and password next.
Enter captcha.
Clicking that button displays a sign-in option.
Once you've successfully logged in, you'll be sent to your personalized dashboard.
To sign up for a particular activity, you will need to complete the registration form.
You are required to include the following details regarding the activity:
Engaged in
Level
Theme
Organizer
Date
The total number of participants expected to attend the event
You need to provide the appropriate photograph.
NIN Poshan Abhiyaan mission
POSHAN Abhiyaan, which functions as the umbrella agency, will provide direction and oversight for nutrition-related activities carried out by various ministries.
The proposal can be summarized as follows:
To determine which of the many strategies currently in place to fight malnutrition are the most effective
Bringing about a degree of steadiness in the convergence method.
A monitoring system that updates in real-time and is based on ICT
It offers rewards to the states and UTs that are successful in achieving the targets.
Encouraging Anganwadi workers to employ tools based on information technology (AWWs).
Getting rid of registers that are exclusive to AWW.
Starting next year, all children who visit an Anganwadi Center will have their heights recorded (AWCs)
Audits of social systems are sometimes commonly referred to as "social audits."
Establishing Nutrition Resource Centers and involving the general public in nutrition-related activities, such as through the Jan Andolan program instance.
Poshan Abhiyaan Guidelines
Modules are a part of yoga.
Young children can practice yoga as young as three and six years old.
Teenage girls should practice yin yoga.
Pregnancy Yoga for Women Who Are Expecting a Child.
Yoga for Breastfeeding Mothers
Jan Andolan's POSHAN Abhiyaan has a set of guidelines to follow.
Guidelines for Implementing Incremental Learning in Real-World Settings (2018)
Norms to Follow When Organizing Activities for the Community (2018)
NIN Poshan Abhiyaan Summary
In March of this year, Narendra Modi performed the opening ceremony for the POSHAN Abhiyaan in Jhunjhunu, which is located in the Indian state of Rajasthan.
The end goal is to ensure that diverse nutrition-related programs converge to bring the number of people suffering from malnutrition and related issues to an acceptable level.
The plan's primary focus is on addressing stunting, malnutrition, anemia, and low birth rates.
To the greatest extent that is feasible, it will use the structural arrangements of line ministries to maintain track of and monitor the implementation of all of these programs.
NIN Poshan Abhiyaan Website
Official website: poshanabhiyaan.gov.in
The activities of POSHAN Maah were centered on bringing about social and behavioral change and improving communication (SBCC). The primary focus areas included prenatal care, optimal breastfeeding (early and exclusively), complementary feeding, anemia, growth monitoring, girls' education, diet, proper marriage age, hygiene and sanitation, healthy eating, and food fortification.
More than 12.2 million women, 6.2 million men, and approximately 13 million children participated in POSHAN Maah activities (both sexes). It is important to note that 30.61 million persons were reached in 30 days. The contribution of POSHAN Maah has been beneficial to the Abhiyaan.