Check LIC Policy Status App by SMS, Phone Number, Name and D.O.B from the essential details that are shared in this article.
If you are an active individual and have already made a policy with Life Insurance Corporation then you must check the LIC Policy Status frequently. Knowing about the LIC Policy Status will help you to know the benefits, maturity date, and more important details.
LIC Policy Status
LIC Policy helps an individual to have a lump sum amount of money at the time of requirement. It gets mature at a certain duration of time or after an unusual incident. The policy is given by the issuer on a contract basis for some asset or liability from an individual.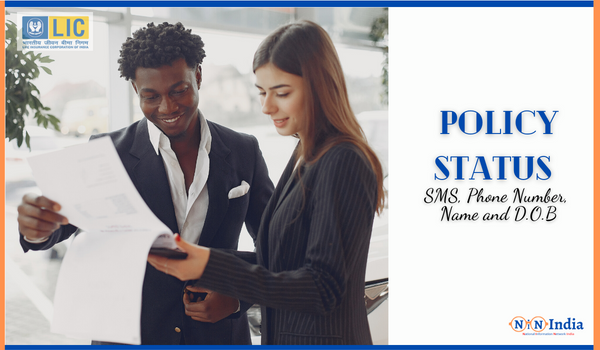 LIC policyholder needs to know their policy status for their own information. It helps them to retrieve and mature it from time to time. Most agents take a large amount of money from people in the name of being a LIC Agent. To be aware of fraud and other issues, you must check the status from the official website only.
Types of Life Insurance Policies
Term, Whole, Universal, and Variable life insurance. An individual can apply for any one of these depending on their requirement. It is advisable for every individual to take help from an authentic LIC agent to create a policy.
There are many frauds that occur every day. Therefore, you must go to the official LIC office or its leading portal of it. We are sharing useful information in his article about the LIC Policy Status taking a reference from the official website of Life Insurance Corporation. Click Here to get an Insurance Plan from LIC.
Check the App by SMS, Phone Number, Name and D.O.B
In our article, LIC ADO 2023, we have discussed about the recruitment, benefits and more details for those applicants who are interested to join LIC. They have requested us to jot down an article for the LIC Policy Status using SMS, Phone Number, Name and D.O.B. Thus, we are sharing the crucial details here.
How to Check  LIC Policy Status by SMS?
Nowadays, Short Messaging Service (SMS) is not used as much as other contact options by a policyholder. Still, we have discussed the steps just in case you use the SMS service.
Compose an SMS to ASKLIC XXXXXXXX STAT from your registered mobile number
Enter the number 9222492224 or 56767877 according to your city
The necessary details of your LIC Policy will be shared with you!
Be aware of the intrusive activities and do not respond to the unknown number for LIC Policy Status!
Passport Status, Login, Registration, Process, Documents, Fee

PM Kisan Balance Check by Aadhar Card, Mobile Number, Status Check

PM Kisan 13th Installment 2022-23 Date and Time, Status, List

SSP Scholarship Portal – Registration, Login, Status Check

Haryana BPL Ration Card 2023 Download, List, Status Check
How to Check LIC Policy Status by Phone Number?
A phone call is a convenient option for you when it comes to checking the LIC Policy Status.
Dial the L.I.C. Helpline Number 1251 (BSNL AND MTNL users have to dial the same number)
LIC Premium Status, Bonus, Loan, the revival of lapsed policies, and more details
Note that you will be connected via IVRS (Integrated Voice Responses System)
You have to share your pin code and other information that will be asked of you
This is how you can easily get the required information for the policy. The calling services are available 24 x 7, thus, you can call on the given number at any time that is suitable for you. In the image below, we have shared the required numbers of different states/cities for your ease.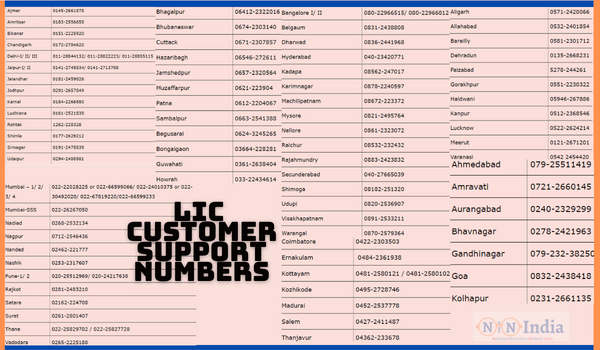 How to Check LIC Policy Status by Name?
If you have not registered to the LIC portal then you have to sign up first. For this, you need to fill out the registration form which is available on the main portal.
Step 1 Now, the existing users can log in to the website using their username and password
Step 2 Click on "Enrolled Policies"
Step 3 Enter your name or other details as needed
Step 4 Submit your request
Your Policy Status will be visible to you on the screen. Please do not share these crucial details with anyone else. Your LIC Policy is an asset, do not allow someone else to make use of it.
How to Check LIC Policy Status by D.O.B?
Date of Birth is known to be valid information for an individual. Therefore, it is used at most Government offices.
Step 1 Open LIC's official website
Step 2 Click on LIC Mitra Logo from the bottom of the home page
Step 3 A window will open
Step 4 Type "Policy Information" in the given column
Step 5 Enter policy number
Step 6 Click send
Step 7 Enter date of birth in "dd/yy/mm" format and click on the send button
The current status of the policy will be shown to you on the screen. This will comprise the Last date you have [paid for the policy, the due date, lapse, maturity date and other details that would be useful for you.
To know the Policy Status directly, click here.
These were some of the ways by which an individual can check the LIC Policy Status. We hope that you have liked our article on LIC Policy Status. Kindly drop a comment if you have any specific queries.
Thank You for Visiting NINIndia!