Get to know the vital details about the KVS Admission 2023-24 Class 1 to 11 Application form, and Last date
Most of the parents wish to provide Admisison in Kendriya Vidyalaya Sangathan for their ward. Unluckily some of the children are not able to join the school. If you are also willing to join KVS, read the entire article.
KVS Admission 2023-24
There is excellent news for the parents and the students that the Kendriya Vidyalaya Sangathan is inviting applications for Admissions. The students of classes 1 to 11 can apply online to join the school in their nearby area.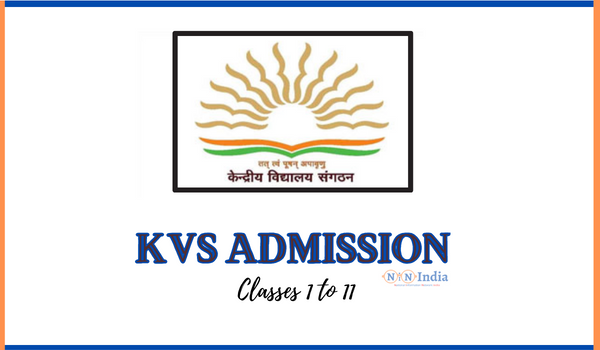 The Admission will take place according to the category preferences set up by the KVS. Defence, unreserved and Central Government employees are included in this criteria.
KVS Admission Class 1 to 11 Application form
Class 1 to 11 Application form needs to be filled with the name, class for he or she wants to opt for, guardian's name, and other details. Kindly note that there is no application fee to take admission in Kendriya Vidyalaya Sangathan for the reserved category candidates and the merit holders. The required details must be checked from the official website. Therefore, the students can fill out the form before the due date. The application status can be checked from the main portal of KVS.
KVS Admission 2023-24 Eligibility Criteria
Every student must follow the eligibility criteria else KVS will not be going to accept their application.
| | |
| --- | --- |
| Students of Classes | Age Limit |
| 1st class | 5 to 7 years |
| 2nd class | 6 to 8 years |
| 3rd class | 7 to 9 years |
| 4th class | 8 to 10 years |
| 5th class | 9 to 11 years |
| 6th class | 10 to 12 years |
| 7th class | 11 to 13 years |
| 8th class | 12 to 14 years |
| 9th class | 13 to 15 years |
| 10th class | 15 to 16 years |
| 11th class |  16 to 17 years |
KVS Admission 2023-24 Last date
If you want to check the details of KVS Admission for Class 1-9, you must visit the leading portal.
| | |
| --- | --- |
| KVS Admission Details | Dates  |
| Notification | February 2023 |
| Application Start Date | March 2023 |
| KVS Admission 2023-24 Last date | 17th April 2023 |
| KVS School Allotment List Release Date | To Be Announced |
| Final Admission List Release Date | To Be Announced |
17th April 2023 is the end date for Registration. Interested students must start to filling their forms. They have to enter the mandatory details to confirm their seats in the school.
BSEB 12th Registration 2023
IGNOU Entrance Form 2023
SRMJEEE 2023
NIN Admission
JEE Advanced 2023
KVS Admission 2023-24 Documents Required
Parents must keep in mind that there are certain documents that need to be submitted for their ward. We have provided the list below:
Birth Certificate
Residence Proof
Retirement Certificate of Defence Employee
Transfer Certificate (if required)
Category Certificate
Disability Certificate
And More
The list is available on the leading portal. You can view it from there for your reference.
How to Apply Online for KVS Admission 2023-24?
Guardians of their wards can follow the easy and quick steps from below to complete registration.
Step 1 Navigate to main website of KVS. Register for your ward using the specific details. These should be correct.
Step 2 Now, login to the portal using your ID and a password.
Step 3 Go to the 'Important Links' section where you will find the link of KVS Admission 2023-24
Step 4 Open the form and start to enter the details
Step 5 Class, name, contact number etc needs to be entered properly
Step 6 Select one from the list of KV schools
Step 7 Upload the documents as required in the scanned format. We have already shared the list above.
Step 8 Pay the fees using online payment methods as available on the main website of KV
Step 9 Click on 'Verify'
Step 10 Enter OTP
These were some of the convenient steps that will help you to fill out the form online. If there is an offline KVS Admission process then you have to consult the authorities for the same.
Kendriya Vidyalaya Sangathan Helpdesk
Parents or students can connect to the authorities during the working hours to get the proper assistance regarding Admission.
FAQ's
What is the KVS Admission 2023-24 Last date?
17th April 2023
Students of which classes can apply for the KVS Admission 2023-24?
Classes 1 to 11
Thank You for Visiting NINIndia! We appreciate it that you have made time to read this entire article on KVS Admission 2023-24. You can browse more sections from our website such as Government Schemes, Exam Dates, Entertainment, etc based on your reading interests.