Get the GATE Scored 2023 Release details and many more over here.
GATE Scorecard 2023
GATE Result 2023 on 16 March 2023 will be released by IIT Kanpur. The results will be made available online at the official website. To select applicants for the Mtech program or for PSU recruitment, the GATE exam was held on February 4, 5, 11, and 12. The results of every candidate who took the GATE Scorecard 2023 exam are currently being eagerly awaited, and to get proper information, keep in touch.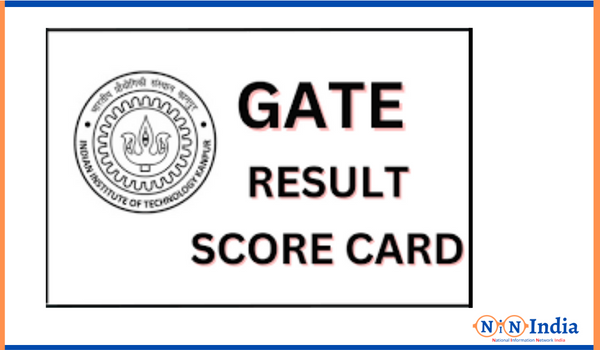 The names and roll numbers of the students who passed the online exam will be listed in the GATE 2023 Result & Merit List, which will be available in pdf format. The outcome has to be downloaded. Applicants are encouraged to bookmark this page so they may keep up with any changes to GATE Result 2023.
GATE Scorecard 2023 Release Date
on 16th March 2023, the GATE Result is set to be released by IIT Kanpur. Those interested in pursuing an MTech or seeking PSU employment attempted the GATE Test. The participating candidates can access the GATE Result 2023 on the official website 3. To access the official login page and view their results, applicants who took the entrance exam must enter their registration ID, email address, enrollment ID, and password.
GATE Result 2023 
INSTITUTE
IIT Kanpur
 Name of exam
 2023 GATE
 Category
 Sarkari
 Status
  Soon to be Released
 Exam Date
 Feburary 4,5,11,12
 Result Announce Date
 16-03-2023
Scored Card
21-03-2023
 Website
gate.iitk.ac.in
GATE Scorecard 2023 Download Link
There will be no postal or electronic delivery of the GATE Result 2023; it will only be available online at the official website. Details like scores, qualifying marks, All India Rank, etc., would be included in the result.  on the basis of the final answer key, the result will be prepared for GATE Result 2023.  On the basis of the Graduate Aptitude Test in Engineering result 2023, candidates can apply for admission to various M.Tech courses and PSU employment. As soon as the GATE Result 2023 is made available, the link will be published below in this article.
GATE Scorecard 2023 Result Steps
The processes listed below should be followed by candidates in order to download and view their GATE Result 2023.
Go to the official website of GATE 2023
Click the "GATE 2023" or "Indian Institute of Technology Kanpur" link on the homepage.
 Choose the Login Portal on the new page that opens
After that, candidates must provide their login information, which includes their Enrolment ID, email address, and password.
 Now on the screen, the GATE Result will be shown.
 For future requirements, the applicant is requested to download it ad save it.
PSTET 2023 Admit Card, Roll Number for Paper
KVS Admission 2023 Class 1-9 Application form
Gujarat Forest Guard Exam Date 2022
PFRDA Result 2022 Group A Merit list
TNPL Schedule 2023 Auction
GATE Scorecard 2023
The GATE scorecard for 2023 will be made available by IIT Kanpur to approved applicants exclusively. Candidates who achieve the minimum cut-off marks specified will be deemed qualified and qualified applicants will be considered for admission and recruitment. Details like the All India rank, the normalized score, and candidate information will be included in the GATE Scorecard 2023. To get their GATE Scorecard 2023, candidates would need to sign in to the official website. The scorecard should be kept by the candidates for future reference. For admission to M.Tech programs, the GATE Scorecard 2023 will be valid for three years.
GATE Scorecard 2023  Details Mentioned
The details given below will be shown on the GATE Scored 2023.
Applicant name
Registration number  of GATE 2023
Marks obtained from 100
 Out of 100, GATE Scored
In the paper, ALL INDIAN  RANK
 Code and exam paper of GATE
Qualifying Marks  GATE 2023
GATE Scorecard 2023  Steps To Download
Go to the official website
By entering your email address or enrollment number and password, access GOAPS 2023.
Download the GATE scorecard as a PDF file.
Print out the same page for your records.
What After GATE Scorecard 2023
Several professional and educational choices are available to applicants who pass the GATE. Some of the alternatives available to candidates who pass GATE 2023.
Opportunity for higher education – With CCMT, candidates can pursue M.Tech, M.S., or even a PhD at the NITs. Additionally, as most universities will accept GATE scores from 2023, individuals can also apply for IIT M.Tech admissions or even pursue admissions at their home state colleges.
Discover your possibilities for higher education abroad – Applicants must know that GATE scores are accepted by nations like Singapore, Germany, and even certain European nations for admission to their master's programs. Thus, GATE candidates who meet the requirements can take advantage of this chance.
Choose PSU hiring – Major PSUs accept GATE-qualified candidates for management trainee positions.
For more details and essentials information, keep in touch with us at NINIndia
Thank You..!