Get your GATE Admit Card 2023, check the Branch Wise Exam Date, and Hall Ticket details from the necessary information provided in this article. The GATE exam is usually conducted to test the skills and knowledge of the students in various subjects such as Engineering, Technology, etc. If you have applied and want to give the exam then you can collect your GATE Admit Card from its official website!
GATE Admit Card 2023
Many people have a myth that the GATE exam is the toughest in India but it is not so. There are several other exams like UPSC which involve regular practice and hard-core knowledge to crack it. But yes, the GATE exam is definitely tougher than JEE Exam.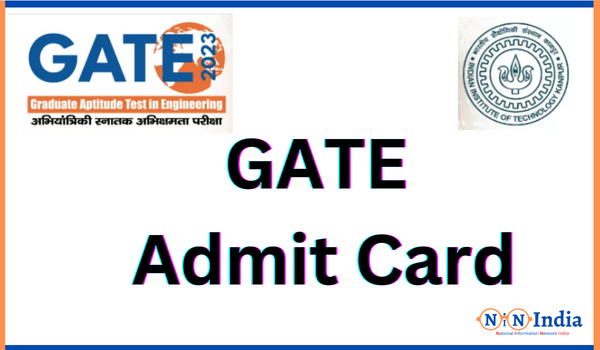 The Graduate Aptitude Test in Engineering (GATE) is conducted every year by the GATE Committee. This is to give a golden chance to the students who want to join an engineering college. The admit card will comprise the details such as exam centre, time, day, date, candidate's name, application number etc. If you want to get it cleared in one go then you also have to make your night and says as one to reach to your significant goal.
GATE 2023
The GATE exam is conducted annually to test the skills of students who want to further opt for engineering and science in their undergraduate courses. The GATE Committee is responsible for nurturing the knowledge of the students via this exam. The scorecard is very useful for a student and it is valid for at least 3 years. IIT Kanpur is the head of the GATE exam. Any student can find the relevant information on GATE from their official website. We have provided the website, links and other important details further in this article.
GATE Branch Wise Exam Date 2023
The exam is conducted at eight major regions in which 1072 colleges participate. As of now, 23 new cities have been added to the list of examination centres. The exam will start on the 4th, 5th, 11th, and 12th of February 2023.
| | |
| --- | --- |
| Event  | Date |
| GATE Application start date | 30/08/2022 |
| Closing of submission of application form | 07/10/2022 |
| Last Date of Extended period for Online Registration Application (With Late Fees) | 16/10/2022 |
| Last date for changing the city | 04-11/11/20122 |
| Admit Card release date | 03/01/2023 |
| GATE Exam Date | 4th, 5th, 11th, and 12th February, 2023. |
| Result Announcement | 16/03/2023 |
We have taken the aforementioned dates from the official website of GATE. If you want to check out the complete time table, syllabus and other vital details then do visit the official website. The table below shows the branch-wise details of the exam.
GATE Exam Dates

Time

Exam Branches/Subjects

04/02/2022

2 to 5 PM

–

05/02/2022

Morning Shift(9 am to 12 pm)

CS & BM

2:30 to 5:30 PM

EE & MA

06/02/2022

Morning Shift(9 am to 12 pm)

EC, ES, ST, NM, MT & MN

2:30 to 5:30 PM

CY, CH, PI, XH, IN, AG, GG & TF

11/02/2022

2 to 5 PM

–

12/02/2022

Morning Shift(9 am to 12 pm)

CE-1, BT, PH & EY

2:30 to 5:30 PM

CE-2, XE & XL

13/02/2022

Morning Shift(9 am to 12 pm)

ME-1, PE & AR

2:30 to 5:30 PM

ME-2, GE & AE
GATE Hall Ticket
The exam is usually conducted online or offline depending on the decision of the committee. It consists of 29 subjects which are associated with Engineering and Technology. This time IIT Kharagpur will be organising the paper for students across the country.
| Year of GATE Admit Card Release | GATE Admit Card Release Time |
| --- | --- |
| 2021 | 4:30 pm (Evening) |
| 2020 | 7:00 pm (Evening) |
| 2019 | 4:30 pm (Evening) |
| 2018 | 8:30 pm (Evening) |
| 2017 | 12:00 pm (Afternoon) |
The table above shows the release of the GATE hall ticket. According to this table, a candidate can expect the hall ticket release time anytime in the afternoon or evening. However, this is simply a prediction, the actual release time will soon be updated on the official website of GATE.
How to Download GATE Admit Card 2023?
The candidates have to carry travel passes as instructed by IIT Kharagpur. Follow the steps below to get your GATE Hall ticket 2023.
Step 1 Go to the leading portal of GATE
Step 2 Login to the portal using your enrolment ID and a password
Step 3 Now, go to the "Notifications Section"
Step 4 Click on view all
Step 5 You will find the link to GATE Admit Card 2023
Step 6 Click on the link
Step 7 Now, you have to enter your details such as date of birth etc
Step 8 Click on the submit button to get the admit card
A photo ID Proof is a mandatory document that a candidate has to carry during the exam. This document can be your aadhaar card, driving license, PAN card, voter ID card etc. But we would recommend you to always carry your aadhaar card wherever you go! This is helpful for identity verification.
Thank You for Visiting NINIndia!