The Institue of Company Secretaries of India is a professional body owned by the ministry of corporate affairs and the government of India. Please read the further content related to CSEET January 2023.
CSEET January Admit Card 2023
The Institute of Company Secretaries of India will release the admit card ten days before the examination date. Candidates can download the admit card by entering their Registration number. The Registration number consists of 17 digits.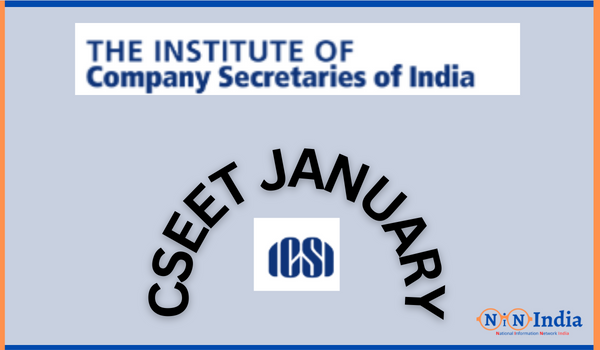 By entering their registration number into the Institue of Company Secretaries of India's official portal, their account will be displayed, and their admit card will be available on the screen.
CSEET January Admit Card Details 2023
The following details that will be disclosed by the Institue of Company Secretaries of India are as follows-
Candidate Name
Enrollment or registration of a candidate
Date of exam
Time of exam
Exam Center Address
The admit cards are expected to be released on 27-dec-2022 for the January Attempt. Curious and dedicated students are hopefully prepared well to score good marks in the exam to get a better place in internship.
How to Download CSEET January Admit Card 2023?
There are steps to be followed by the candidate to download the admit card-
STEP 1- Go to the official website
STEP 2- login through your ID and password
STEP 3- Then click on the login button
STEP 4- After that, click on the admit card to pop up on the screen
STEPS 5- Check the details which are mentioned in the admit card
STEP 6- After all the details are correct Then, print your admit card
IMPORTANT NOTE-
Candidates are advised to take two prints out of the hall ticket, so in the last, they need to worry about if another one is lost.
KPSC JE Admit Card 2022

AISSEE Admit Card 2023

DU PG Admission List 2022

UPSSSC Forest Guard Vacancy 2022

ISRO URSC Result 2022
CSEET January Registration 2023
Candidates are requested to see the date for registration for the CSEET exam-
| | | |
| --- | --- | --- |
| Particulars |  Registration in November 2022 |  Registration in January 2023 |
| Starting Date | 16/06/2022 | 16/10/2022 |
| Last Date | 15/10/2022 | 15/12/2022 |
Hopefully, candidates have done their registration and started for preparation of examination.
CSEET January Documents Required
When candidates are applying for the application form, then these documents are required in Soft Copy are in follows-
Photo of the candidate (Size 20 to 50 kb)
Signature of the candidate  (10 to 20 kb)
10th Marksheet (Verification of Birth date )
Class 10+2 Admit Card or Mark Sheet
Special Category Certificate
ID Proof (such as aadhar card, voter ID card, PAN card, etc)
IMPORTANT NOTE-
1. Files must be uploaded in jpg, jpeg, BMP, pdf, etc.
2. THE Size of the total file should not exceed 2 MB.
CSEET January Eligibility Criteria  2023
The eligibility criteria are explained below –
There are no minimum age criteria
Candidates must have passed the 10+2 examination
Graduates or post-graduates can also have to appear CSEET entrance exam. If the candidate has fulfilled all the above eligibility criteria, they can appear for the CSEET examination.
CSEET January Exam Date 2023
The CSEET exam is going to be conducted by 7 January 2023. This is the timetable for the CS foundation programme DEC 2022 :
| | | | | |
| --- | --- | --- | --- | --- |
| PAPER NO | SUBJECTS  | BATCH NUMBER  | DATE OF EXAM  | EXAMINATION TIMING |
| 1 | Business Environment and law |   I | 27-DEC-2022 | 9:30 TO 11:00 A.M. |
| 2 | Management Ethics and Entrepreneurship |  II | 27-DEC-2022 | 4:00 TO 5:30 P.M. |
| 3 | Business Economics | I | 28-DEC-2022 |  9:30 TO 11:00 A.M. |
| 4 | Fundamentals Of accounting and auditing | II | 28-DEC-2022 | 4:00 TO 5:30 P.M. |
The CS Executive exam schedule for December 2022 is as follows-
| | | | | |
| --- | --- | --- | --- | --- |
| Date  | Day  | Module  | Paper  | Timings  |
| 21.12.22 | Wed | Jurisprudence, Interpretation and General laws | Module-I | 2:00: 5:00 P.M. |
| 22.12.22 | Thurs | Securities laws and Capital Markets | Module-II | 2:00: 5:00 P.M. |
| 23.12.22 | Fri | Company law | Module-I | 2:00: 5:00 P.M. |
| 24.12.22 | Sat | Economic, Business and Commercial Laws | Module-II | 2:00: 5:00 P.M. |
| 26.12.22 | Mon | Setting up of business entities and closure | Module-I | 2:00: 5:00 P.M. |
| 27.12.22 | Tue | Corporate and management accounting | Module-II | 2:00: 5:00 P.M. |
| 28.12.22 | Wed | Tax Laws | Module-I | 2:00: 5:00 P.M. |
| 29.12.22 | Thurs | Financial and Strategic Management | Module-II | 2:00: 5:00 P.M. |
CSEET January Examinees Instructions 2023
Some of the essential examinees should read before appearing for the examination. These instructions apply to the candidates appearing in CS Executive and professional examinations.
Students should receive the admit card before appearing for the examination from the official site of the institute.
Persons with disability candidates must carry a special permission letter which The Institute of Company Securities of India will provide so that they get extra time in the exam hall.
No candidate shall be allowed to the examination hall after half hour from the commencement of the examination.
Candidates are allowed to leave the examination hall after one hour after the commencement of the examination.
No unique seating facility will be provided to the candidate without the Insitute's permission.
Candidates who get exemption in the previous attempt. Then in the next effort, they do not have to appear in the examination. They will be exempt from the paper in a current attempt.
The exemptions are to be shown on the admit card and must be matched with the attendance sheet.
The Students will get an exemption if they have got 60% plus or equal marks in the previous attempt.
If the candidate appears in the examination hall in that paper which has previously been exempted, then your exemption will be cancelled without any notice.
Candidates are not allowed to bring valuable things. If those things are lost or damaged, the institute will not be responsible and can not get any reimbursement from the institute.
Candidates must write answers in the exam with a blue ink pen or ballpoint pen. If they use another colour pen in the exam, their paper will be prohibited.
Candidates can use the calculator in exams, but the calculator should not have more than six functions,12 digits and two memories.
Candidates are advised to attend to the questions from a new page and attend all the parts of the question in a serial order. 
The negative making is available in the Multiple Choice Questions.
The negative marking will be one mark for every four wrong answers will be deducted.
Thank You for visiting NINIndia. Hopefully, you have learned about various new things regarding the examination. Also, visit for more fresh content related to admissions, sports, and Entertainment.